Tax Planning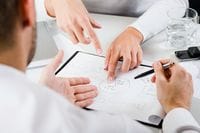 Tax is complex and there are times when you need more than just a tax return done.
Tax can be a major cost to your business. Not managed correctly, tax can become a barrier to achieving your goals.
Some popular tax planning strategies are highly effective at minimising tax but provide little benefit in terms of wealth creation. Some strategies can actually make you worse off either immediately or in the long-term.
At Trilogy Professional Group, we help you minimise your tax with smart and enterprising solutions that take into account your whole financial position, that suit your changing needs and protect your assets.