Management Meetings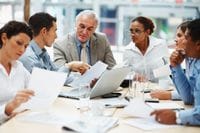 As a business owner, you can often feel like you are in one meeting after another but are those meetings productive and providing outcomes?
Productive management meetings are a basic fundamental step toward the development of a management team that works together and produces results.
They are crucial to every business no matter the size but you would be surprised how many businesses do not hold these meaningful sessions on a regular basis. Often it is because they have tried in the past but due to the lack of understanding of how to properly conduct them, they give up because of lack of results.
We can show you the techniques to facilitate your company's management meetings so they :
are more effective
don't waste time
produce results
build team culture
We assure you, if properly conducted and with the right techniques, these meetings will become even more productive as you continue having them and they will advance your company's success.